Fleet History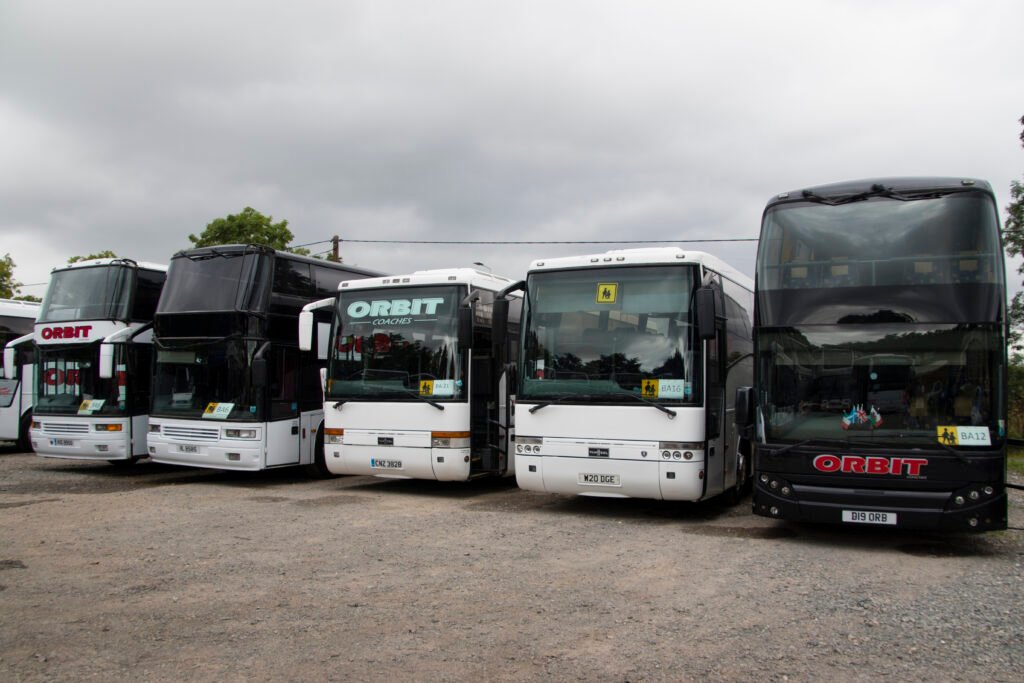 Here at Orbit Coaches, we have operated a varied and interesting fleet in the past, ranging from Duple bodied DAFs to the more recent Van Hool Alizee coaches. Arguably, the most notable vehicles we have ever owned have been (and still are) of the Scania brand, as this chassis manufacturer never fails to supply well-built coaches and buses. The Orbit fleet may update periodically, however, one thing that will always be maintained is the high standard which we present our vehicles to, with the iconic red Orbit swoosh in pride of place on the side of every coach in the fleet.
As mentioned above, the majority of the Orbit fleet has always been made up of Scania coaches and buses. Previously owned coaches have been bodied by many manufacturers, including Jonckheere, Van Hool and Irizar, whereas the more recent double decker Scania buses have mostly been bodied by East Lancashire Coachbuilders (known to many as just "East Lancs" or "ELC"). Initially, we owned four Scania N113DRB double deckers with East Lancs Cityzen bodies, however, we later went on to gain five more – a sizeable fleet of a rather underrated and smartly-presented bus.
Continuing with the Scania N113DRB bus chassis theme, it would be hard to forget the four older examples of these that Orbit Coaches previously owned. Two of these were given Alexander RH bodywork and spent most of their working lives in London, whereas the others were bodied by ELC and started their lives in the idyllic seaside town of Brighton. We also owned a similar-looking East Lancs bodied Scania N112, which was new to Brighton & Hove. Again, another intriguing set of vehicles, which add to our history of over 25 years as a Leicester based coach and bus operator.
To provide transport for smaller groups around the Midlands, at Orbit Coaches we have always operated a fleet of minibuses – most of which have been built by Mercedes-Benz. In the past, however, we used to own several LDV Convoys and, of course, Orbit's first vehicle, which was a Talbot Express.
Some of the more renowned vehicles we have ever owned were the double decker Olympians, with chassis manufactured by both Leyland and Volvo. In total, the fleet has seen five Olympians come and go – the earliest was bodied by Eastern Coach Works, followed by another with "R" type bodywork (a style by Walter Alexander Coachbuilders). Orbit Coaches would go on to buy two other Leyland Olympians and a Volvo, all of which had Alexander RL bodywork. These buses were a firm favourite for many passengers, as they were reliable and well-kept service buses.
Recently, we've added a vintage open top Leyland Atlantean to our fleet, which was new in 1973. This bus is now available to hire for proms, weddings and day trips – please contact us for more details. Our most notable vehicle to date, however, has to be our brand new, wheelchair-accessible Yutong GT12 coach, which we acquired in September 2023.
Currently, Orbit Coaches own an impressive fleet of shiny Scania and DAF-engined coaches, perfect for weddings and sport events. We can also provide low floor Scania N94UD / East Lancs OmniDekkas and Scania OmniCities, suitable for school services and rail replacement. Get a quote today and book one of our executive vehicles – whether you need a minibus, coach or executive double decker, here at Orbit Coaches we've got you covered!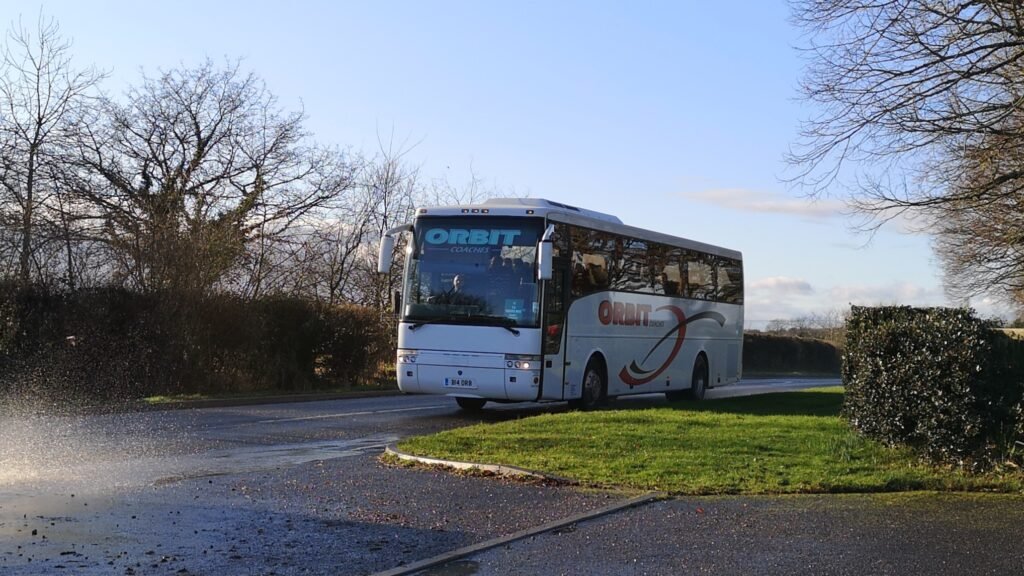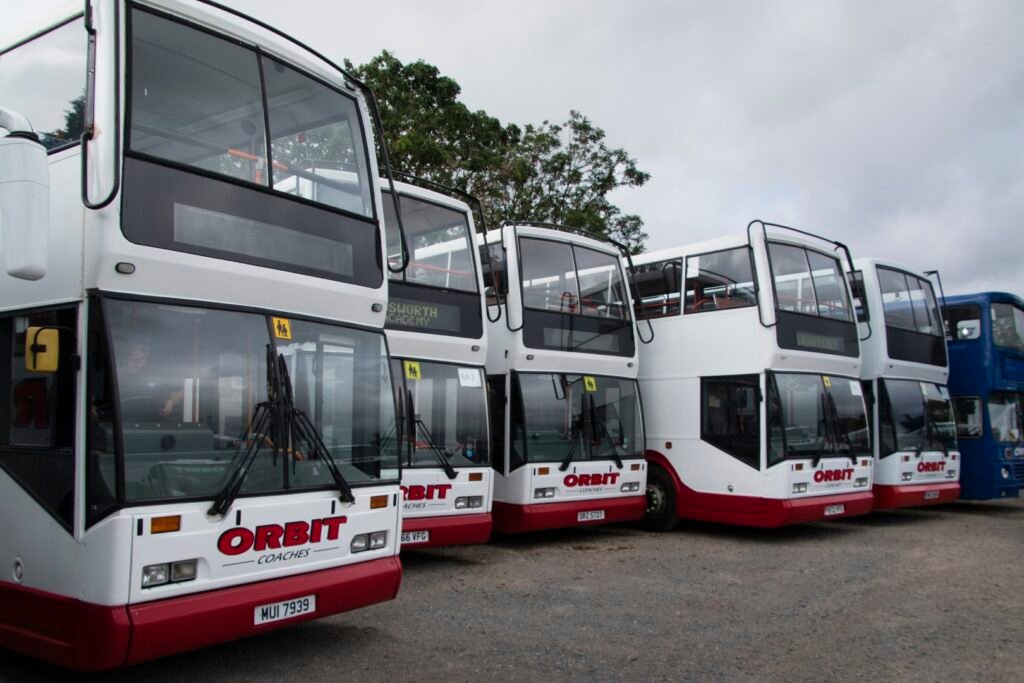 Above left: Five of our ELC Cityzen bodied Scanias. The initial four were later joined by NUI 2424, which can be seen parked at the back, in the far right of the photo. All of these buses have since left the fleet.
Above right: IIL 8585 seen passing beneath stormy skies – this double decker coach is a Scania K124 with Berkhof Excellence 3000HD bodywork. The vehicle would later be sold on to another coach operator.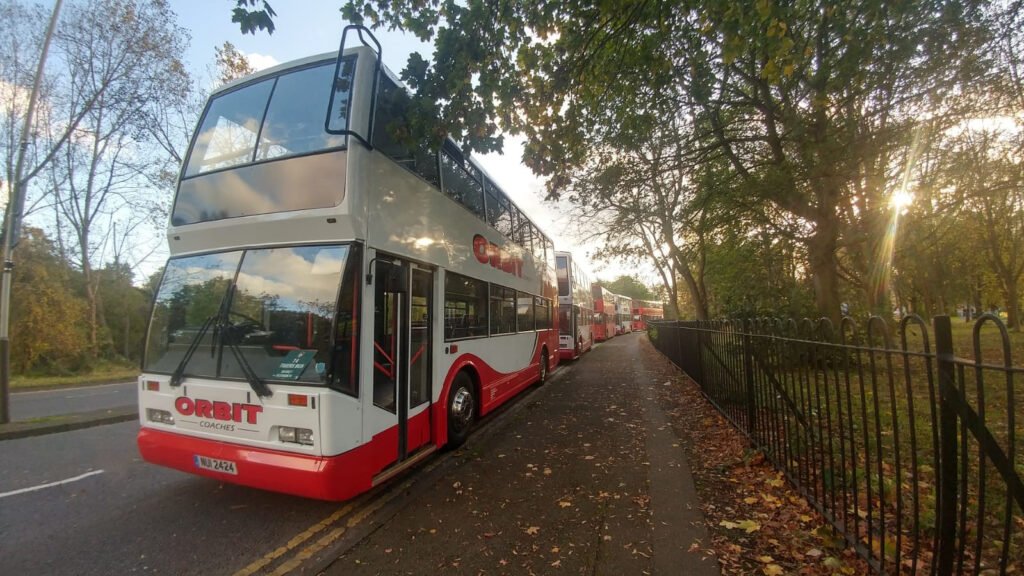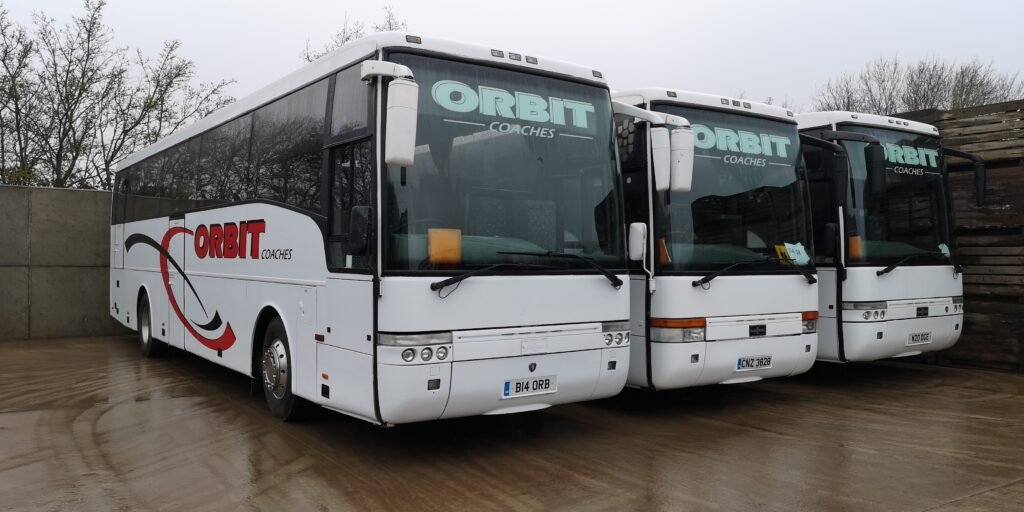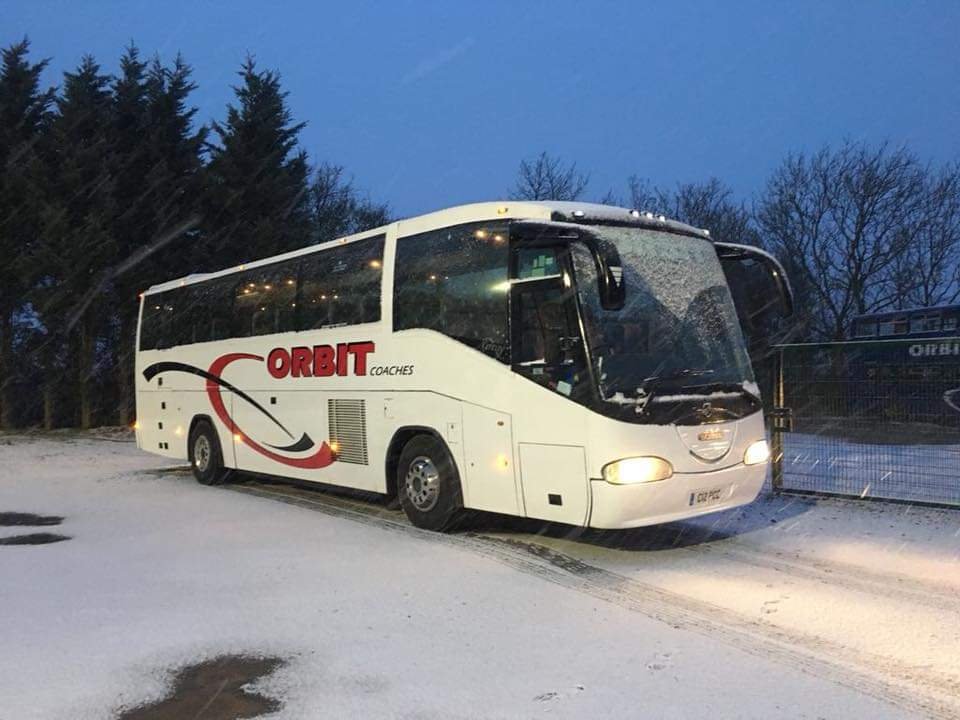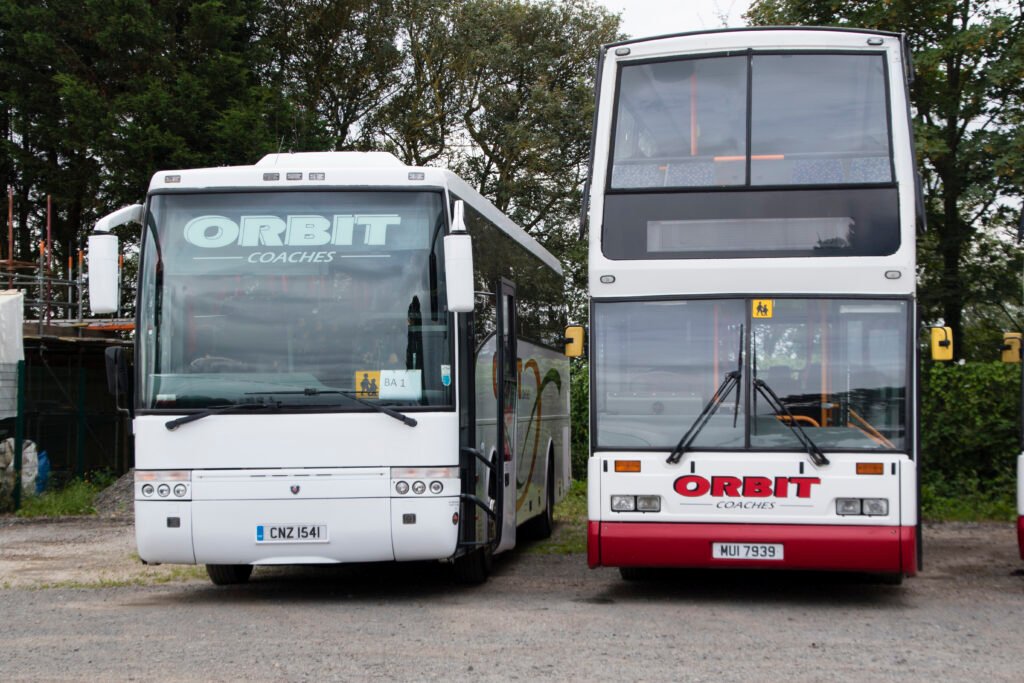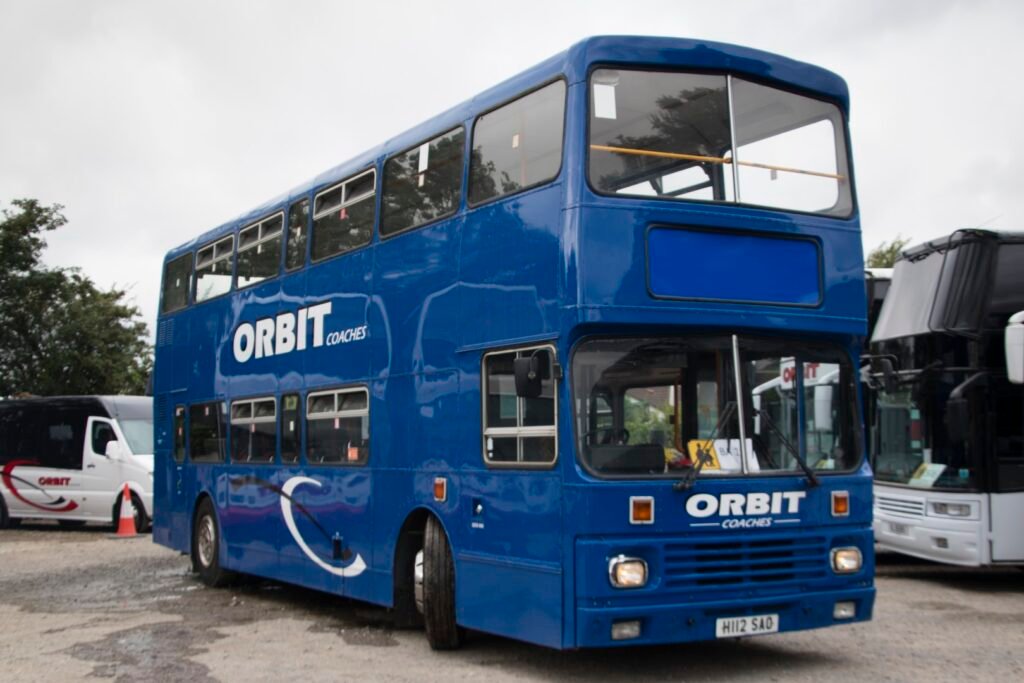 Above left: One of our most popular vehicles in years gone by, Leyland Olympian H112 SAO can be seen in the Orbit premises with various executive vehicles providing a backdrop to the shot. The bus had an Alexander RL body, with glinting blue paintwork that always seemed freshly polished. Sister bus H113 SAO was also owned by Orbit Coaches, however this bus was sold to become a hotel in Japan.
Above right: Who could forget the loyal workhorse that was KIG 8950? This executive coach was, at the time the photo was taken, one of our longest serving vehicles. In the background, you can see a variety of other Scania coaches, most of which have also departed the Orbit premises for the final time. Thank you for your years of dependable service, KIG!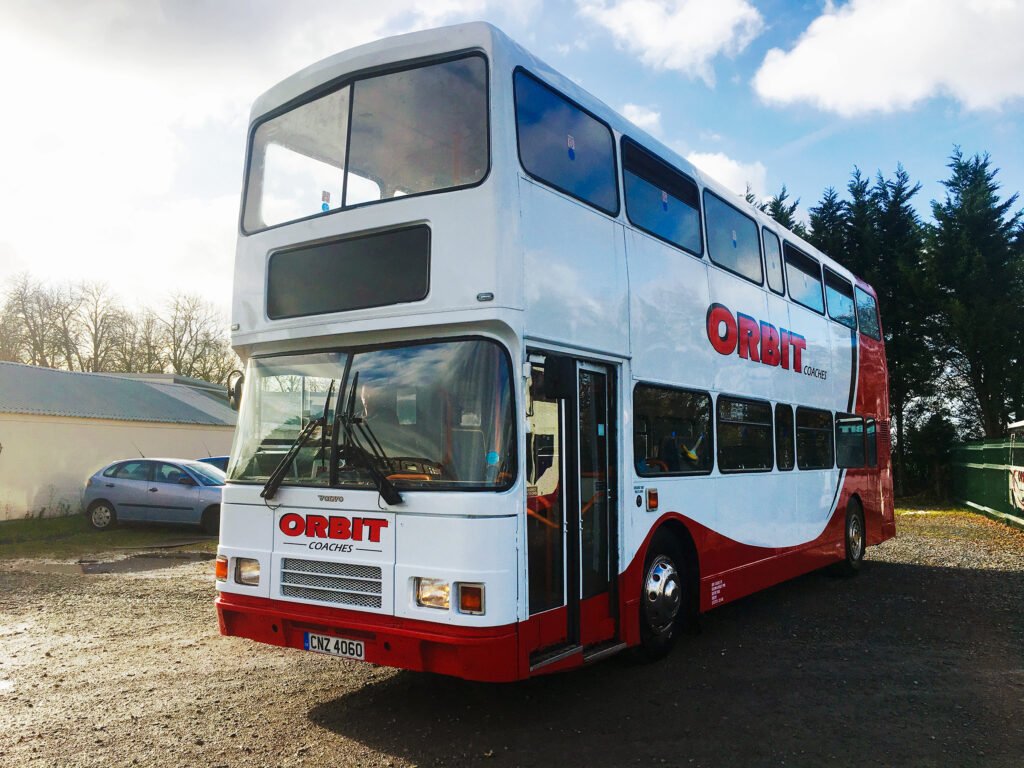 Above left: Our brand new Yutong coach, OO73 ORB.
Above right: Our 1973 Leyland Atlantean open topper participating at a local heritage bus rally.